Anxiety Disorder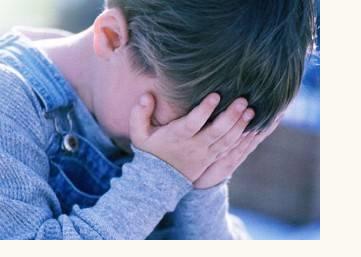 Anxiety is a normal human emotion. Many people feel anxious, or nervous, when faced with a problem at work, or before taking a test or making an important decision. Anxiety disorders, however, are different. They can cause such distress that it interferes with a person's ability to lead a normal life.
An anxiety disorder is a serious mental illness. People with anxiety disorders respond to certain things or situations with fear and dread, as well as physical signs of anxiety such as a pounding heart and sweating. For people with anxiety disorders, worry and fear are constant and overwhelming, and can be crippling. An anxiety disorder is diagnosed if the person's response is not appropriate for the situation, if the person cannot control the response or if the anxiety interferes with normal functioning. Anxiety disorders can get worse if not treated; however, effective treatments are available
There are several recognized anxiety disorders, including the following:
Panic disorder
People with this disorder have feelings of terror that strike suddenly and repeatedly with no warning. Other symptoms of a panic attack include sweating, chest pain, palpitations (unpleasant sensations of irregular heartbeats) and a feeling of choking, which might make the person feel like he or she is having a heart attack or "going crazy."
Obsessive-compulsive disorder (OCD)
People with OCD are plagued by constant thoughts or fears that cause them to perform certain rituals or routines. The disturbing thoughts are called obsessions, and the rituals are called compulsions. An example is a person with an unreasonable fear of germs who constantly washes his or her hands.
Post-traumatic stress disorder (PTSD)
PTSD is a condition that can develop following a traumatic and/or terrifying event, such as a sexual or physical assault, the unexpected death of a loved one, or a natural disaster. People with PTSD often have lasting and frightening thoughts and memories of the event, and tend to be emotionally numb
Social anxiety disorder
Also called social phobia, social anxiety disorder involves overwhelming worry and self-consciousness about everyday social situations. The worry often centers on a fear of being judged by others, or behaving in a way that might cause embarrassment or lead to ridicule
Specific phobias
A specific phobia is an intense fear of a specific object or situation, such as snakes, heights or flying. The level of fear usually is inappropriate to the situation and might cause the person to avoid common, everyday situations
Generalized anxiety disorder
This disorder involves excessive, unrealistic worry and tension, even if there is little or nothing to provoke the anxiety
Symptoms vary depending on the type of anxiety disorder, but general symptoms of anxiety include:
Feelings of panic, fear and uneasiness

Uncontrollable, obsessive thoughts

Repeated thoughts or flashbacks of traumatic experiences

Nightmares

Ritualistic behaviors, such as repeated hand washing

Problems sleeping

Cold or sweaty hands

Shortness of breath

Palpitations

An inability to be still and calm

Dry mouth

Numbness or tingling in the hands or feet

Nausea

Muscle tension
Neurological Findings
Several parts of the brain are key actors in a highly dynamic interplay that gives rise to fear and anxiety. Using brain imaging technologies and neurochemical techniques, scientists are finding that a network of interacting structures is responsible for these emotions. Much research centers on the amygdala, an almond-shaped structure deep within the brain. The amygdala is believed to serve as a communications hub between the parts of the brain that process incoming sensory signals and the parts that interpret them. It can signal that a threat is present, and trigger a fear response or anxiety. It appears that emotional memories stored in the central part of the amygdala may play a role in disorders involving very distinct fears, like phobias, while different parts may be involved in other forms of anxiety.
Other research focuses on the hippocampus, another brain structure that is responsible for processing threatening or traumatic stimuli. The hippocampus plays a key role in the brain by helping to encode information into memories. Studies have shown that the hippocampus appears to be smaller in people who have undergone severe stress because of child abuse or military combat. This reduced size could help explain why individuals with PTSD have flashbacks, deficits in explicit memory, and fragmented memory for details of the traumatic event.
Also, research indicates that other brain parts called the basal ganglia and striatum are involved in obsessive-compulsive disorder.
By learning more about brain circuitry involved in fear and anxiety, scientists may be able to devise new and more specific treatments for anxiety disorders. For example, it someday may be possible to increase the influence of the thinking parts of the brain on the amygdala, thus placing the fear and anxiety response under conscious control